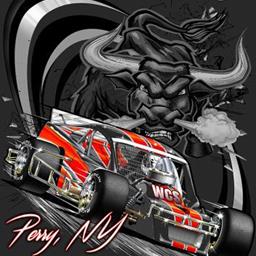 ---
Big Shows for Wyoming County
Big Shows for Wyoming County
Perry NY,  Stock car racing in Wyoming county has been entertaining fans and allowing the 'competitive spirit' to challenge themselves and others in high speed competition for 57 years. Fans follow there racing heroes hoping for a podium position in winners circle and the ultimate division championship.
But over the coarse of time…… things have changed. Spectators have been harder to shake away from there computers and the kids from video games to experience the competition in person. We see this in all venues of live entertainment. The internet has connected us to instant information, therefore loosing out of the full live experience.
At WCIS we have grown our theme events to create additional activities for the whole family and support our sponsors in interactive ways…. These events go on all summer long.
In the fall we turn to serious circle track competition. The Modified event of this Saturday is the first of two heavy hitting racing shows. The American Racer Tire Supported American Modified 75, is a qualifier for the ultimate ShootOut at the BullRing hosting the AMERICAN Modified 100 (Oct 14-15). Professional Modified teams from across the northeast visit the Perry NY facility know as the BullRing. The combination of these two events has been the stimulus of a growing payday for regional asphalt modified teams
Camping and tailgating during the race weekends is a part of the experience. Join the fans of SST Short Track Stock Car Racing for a stimulating weekend of great competition and fun.
Defending the title of last years races are Chuck Hossfeld for the $5000 to win AM75 Qualifier… and 'Big Money� Matt Hirschman won the $10,000 AMERICAN Modified 100! Emerling, Zeiner, Barber, Leaty Zacharias, Hanbury, Majchrzak, Mislin, Koochenash, Bookmiller and Jankowiak are already looking toward the big weekends
 Teams from all levels of open wheel asphalt modifieds competition will take the challenge, at speeds of 100mph around the 1/3 mile banked oval, to grab the trophy and cash award. From as far away as Florida Mass. PA Conn and right here in NYS, the competition is heating up….. but dress warm…
The rest of the $22 General Admission Ticket will be filled with a SuperStock and 4 Cyl. Stock Championship, Legends and the Awesome CAMS Classic Modifieds. Flashback to the time of the old coups, Pinto,& Gremlin bodied modifieds painted up as the heroes of the past…. Evans, Troyer, Bodine and more. GA Gates open at 3, Racing at 6pm…. Great food & drink all night long…
We invite you all to the BullRing. New and old race fans alike. Help us to keep the spirt alive….
Racing's best kept secret.   And the best racing of the year…..    www thebullringwcis.com
Back to News