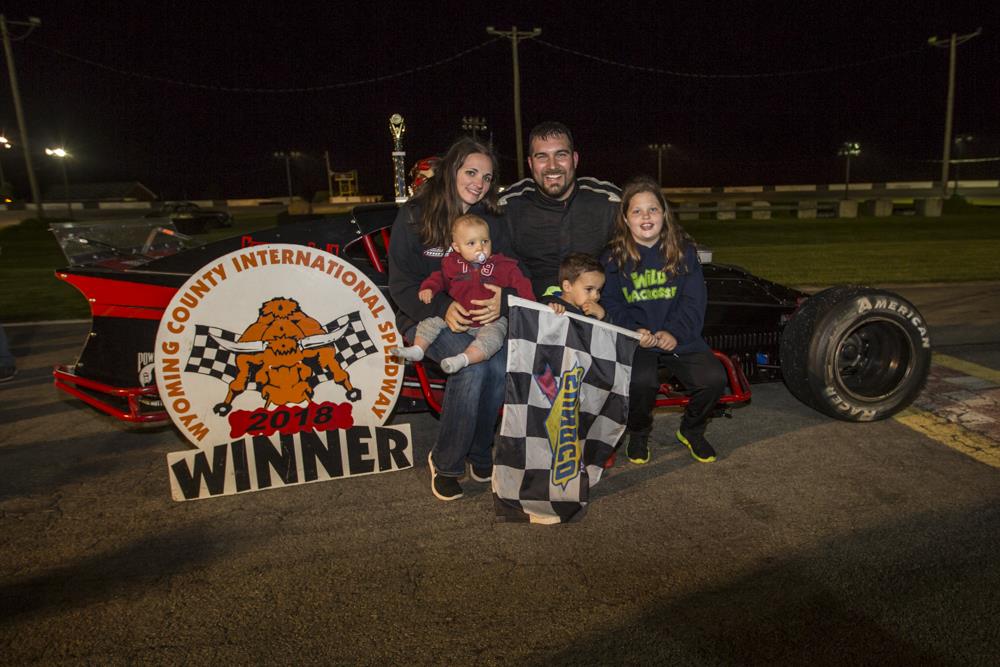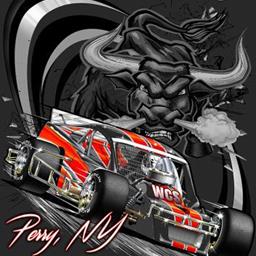 ---
First Responders Night at The Bullring
First Responders' Night
This week is First Responders' Night, which means, as a thank you from all of us in our local communities, all first responders (Fire/Police/EMT/Auxiliary) are welcomed to the Bullring FREE as our guest (w/ ID). There will be a hospitality tent for the first responders in attendance which will include $2 draft beer and light hors d'oeuvres while supplies last!
Meyers, Gustafson make it two in a row, Knapp gets first in 2018 Wyoming Cnty Intl. Speedway press release and finishes for 6/2/2018 By, Dan Turner: Speedway announcer
     It was a cool damp night at the Wyoming County Bullring.    The cool damp air was like a shot of Caffeine for the many race engine in all the respective classes.   With a healthy 47 cars in the pit area it was the making of a super exciting night on First Responders night at the speedway.   Vintage Late-models, The fun 4 banger, the growing Super stock class and as always, and the Mighty SST Modifieds, all on hand for the racing venue.   As the usual, the Majchrzak family looking to put on a safe, entertaining and quality racing event, started the racing program off with a prompt 7:00 National Anthem, followed by the Super Stocks rolling on the racing surface.   For those interested in a night out at the track and don't want to be there till the, we hours of the morning.   The final checkered waved over the modifieds at a very respectable 956 pm
     As I mentioned earlier the Super Stocks took to the track to start our First Responders Night.    Kyle Skoney and the young 15 yr old rookie out of Brockport, Cole Hicks would lead the growing field of Super Stocks to green.   Skoney would use his track time experience to take the early lead and Hick would get shuffled  back a few position.  It would be the Zack Meyers Making the highlight reels as he put on a clinic passing inside, outside anywhere he saw a gap.  Meyers moving from his 8th starting position to second in a few laps and that when the first caution flew.  Hastreiter, Hicks and Troy William tried unsuccessfully  to go three wide in a spot made for two.   William on the outside of the three-decker Super Stock sandwich took the brunt of the situation as Williams made heavy contact with the front straight wall.   Hicks and Hastreiter would return to race. A few laps later w big may lay in turn four accured as the left rear axal on the Mike Chenaille 14s broke off and started a chain reaction.  Chenaille needed the hook and a ton of body damage to the Stealth missile #4 of Joe Horvatits.  This now had the first and second place runners from last week side by side.   As it was last week, Myers seemed to have the superior car on restarts as he would walk away on Loveland's #02 Malibu on the two restarts.   That's how they would finish again 1-2, Meyers with the win, Loveland second and rebounding well from an early wreck, to a third place finish.   Meyers would say in a post-race interview " I'm looking forward to the racing here every week as any of the top 4 or 5 drivers can win this show, and that's fun racing�
     4 cylinders is the entry-level class at the Blacktop Bullring.   But make no mistake, it's not an easy class to win at.   We have had drivers from 14 to almost 70 years young in this division.   Sort of lite on cars on this cool night , but not lite on racing or excitement.   The front row of this class coming to green had Hero or Zero  syndrome.   The Hero was the #00 of Otis Bradshaw.  Bradshaw driving the only Toyota in the field, let alone it's a MR2.   That's a mid or rear engine 4 cyl. With a small 1.6 liter displacement.   racing a against the 2000-2300 cc engines in the Honda's, Accra's and other cars in the field.  The O show lead til about have way when the caution flew for our other front row starter, Kathie Ricketson.   Ricketson getting the Zero end of the luck from the front row would get low in turns one and two, get loose and spin the #44 machine and crash driver side into the concrete retaining wall.   Kathie would escape un-injured, but her Candy apple red racer will need some shop time to put it back in racing form.
As the race continued, it would be Jacob Gustafson and Dave Heims slipping by the Bradshaw MR2.   Bradshaw would start feeling the heat from the charging Andrea Bradshaw (yes, his Sister in law) But Bradshaw would come in third. Followed by his sister in-law Andrea Bradshaw and older brother Mike in his new  4 cylinder.
     Super car count for the Wyoming County Intl. Speedway for most classes, especially the SST modifieds.   20 cars on hand and looking to get their first feature of 2018 on First Responders Night.    This is all possible with the absence of TJ Potrzbowski last week's feature winner.   @time track champion and Bullring rookie Geoff Sharkey would bring this premier class to the start.   To no surprise , Majchrzak took the rookie to school on the start and took the early lead.   Sharky of Oswego slid into the runner-up position for a while then lost a few position , eventually dropping out with engine issue the #66.   Outside of a few minor incidents, it was a lot of great racing as we saw Ricky Knapp Jr work his way to the lead from his 10th starting position.  Tom Alloco in his first full season was a real player in the modified show.   Dick Kluth spun off turn 4 about midway thru the feature and a few other cars involved but no was out of the event.  It was later that the caution flew and this time extensive left front damage on the Kluth #27.   The fireworks were not over yet.  Coming to the checkered, Knapp had a whole lot of company all over his rear bumper.   Majchrzak was trying for an outside pass on the final lap.   Bookmiller in the #40 was great on the very bottom and was sneaking up on the inside. And off the fourth turn it was a busy area as Mmajchrzak was looking for the pass, Bookmiller opted to go wide and got bumped and hit the outside wall.   As a true racer, Bookmiller still gas on as the sparks flew off his damaged car and still managed 8th position.  " I love racing here, Danny fast, Tommy is getting better and its lots of fun racing so close with, out wrecking others equipment and you go home in one piece and work on make your car fast, instead of fixing a broke car.� Said Knapp.
     Vintage late models were also on hand and it was the Marsha Sanford show.    Marsha in her 1961 Ford was on the pole and not be denied her first feature of 2018.    She held of the 1938 coupe modified of Terry Wilson.
Extra Extra:Â Â  Kids night at WCIS
Kids night at Wyoming County Intl.Speedway, 6/9/2018

Free stock car rides,  

65ft inflatable obstacle course. 

Coloring contest

16 yrs and under free entry

Adults $12

  Gates open at 5pm racing at 7pm sharp
Finishes:
4 Cylinders
1)Jacob Gustafson, 2)D.Heims, 3)O.Bradshaw, 4)A.Bradshaw, 5)M.Bradshaw, 6)M.Hurlburt, 7)S.Sickles, 7)K.Ricketson         HEATS: Gustafson
SST Super Stocks
1)Zack Myers, 2)M.Loveland, 3)E.Hastreiter, 4)S.Gleed, 5)J.Horvatits, 6)K.Lanni, 7)R.Ricter, 8)F.Kline, 9)K.Skoney, 10)P.Flye, 11)M.Chenaille, 12)C.Hicks, 13)T.Williams     HEATS: Gleed, Williams
SST Modifieds
1)Ricky Knapp Jr., 2)D.Majchrzak, 3)T.Alloco, 4)S.Fuchs, 5)B.Bradshaw, 6)C.Logsdon, 7)R.Nugent, 8)A.Bookmiller, 9)T.Bradshaw, 10)J.Matzel,11)J.Dennie, 12)Z.Kosachook, 13)S.Sherwood, 14)N.Michielsen,15)B.Kosachook Jr, 16)C.Bolton, 17)G.Sharkey, 18)J.Withey,19)D.Kluth, 20)B.Kosachook Sr.     HEATS: Majchrzak, B.Bradshaw, Knapp
Visit our website for our complete 2018 Schedule, the latest news, and more at www.thebullringwcis.com, and add us on our social media handles: 
Instagram- thebullringwcis 
Snapchat- thebullringwcis.
Facebook - www.facebook.com/theofficialwcis 
For any general questions, please contact either Jim Majchrzak at (585) 245-2123 or Dakota Packman at (585) 447-3602.
Thank you and we hope to see you at WNY's favorite 'Bullring'!
Wyoming County Intl Speedway
35 Adrian Road    PO Box 203
Perry, NY Â 14530
585) 237-2580 Office  (585) 237-2510 Track
Back to News