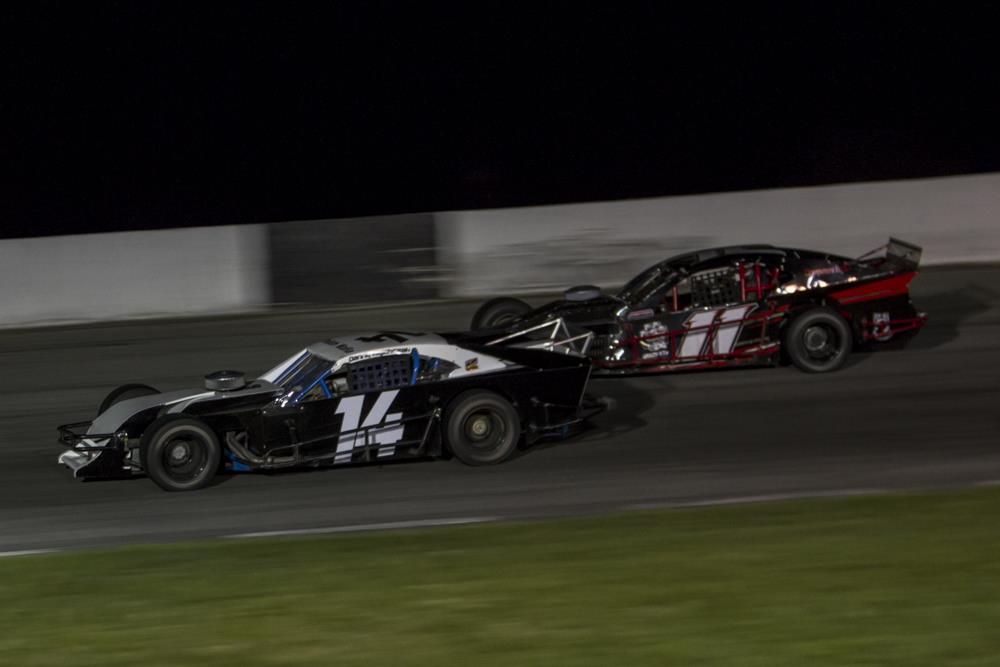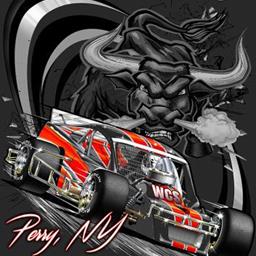 ---
Johnson, Horvatits, Majchrzak, Schenk, find victory | Once Again Nut Butter night WCIS 6/9/2018Â Â Â Â
Johnson, Horvatits, Majchrzak and Schenk, all come up big on Once Again Nut Butter night at WCIS…
Press release/results from Wyoming County Intl. Speedway for 6/9/2018Â Â Â Â 
Dan Turner, Speedway announcer
     It was another fantastic night at the Blacktop Bullring.   The pits were filled with 52 entrees for 4 classes.  Tons of young race fans participating in the many activities set for Kids night at the track.   Coloring contests for 4 age brackets, an inflatable obstacle course to run and paint the soccer ball.    Not your average soccer ball this is a 500 lbs. steel ball used in our own Junkyard Soccer game, played with cars, scheduled for later in the season.   Watch for in on the Wyoming County Intl.Speedway Web site www.thebullringwcis.com 
The lil' guys, the 4 cylinders were the first cars on the track to see who had the car to win on this 9th day of June.  Double 0 (00) Otis Bradshaw and double 4,(44) Kathie Ricketson would set the pace on all natural, Once Again Nut Butter night.   Bradshaw in the only MR2, Toyota powered car in the field, let alone the only rear or mid-engine car racing, would jump out front on the start.   But it would not be long before the heavy hitters would come up and pressure Bradshaw for the number one position.  
First it was Brian Johnson in his neon green Acura #85 machine.   Johnson would slip by the MR2 machine and start his quest to his first feature win, in about 6 years.   It was only a few more laps and Jimmie Pierce Jr, and Ricketson would get by the under powered MR2 of Bradshaw.  

A few cautions thru out this race and restarts it was crystal clear.   Brian Johnson, former track champion was back in 2018 with a car that was going to be a contender for a track championship.  Ricketson and Johnson, both picked up heat wins earlier in the evening..
     Super 6's where on hand, to see who was the car to beat and take home the winners portion of the money. It was an all ladies front row as Rookie this season Kellie Chenaille and Allison Knoepfler would pace the field.  Knoepfler and Schenk would pick up their respective heats.   It was another fine showing for the Spencer Speedway invaders.   Barrett Schenk was there and showed why he was a former champion in this class.   Schenk started in position 6 and found his way to the front quickly.  
Two cars that were noticeably absent, the 36 of Brian Hallett and the 16 of Rob Cassidy.   Both car are very competitive and maybe…. A little too much as the two drivers had a small difference of opinion in the heat and track officials thought it best if both drivers took the rest of the night off.   That was all the Schenk needed to get his first  feature at the Perry Power plant on his first trip there in 2018.
     SST Super Stocks were next on the Blacktop battle field.   The 55 of Kyle Skoney and young, 15 yrs. old rookie sensation Cole Hick  in his Days of Thunder painted #46 would bring this highly competitive division to the green for 25 laps of crowd excitement.   The young Hicks would jump out front leading his first laps ever in a full size race car.  
This would last till nearly half way when the Stealth missile of Joe Horvatits and the Polish Mafia #4 would slide on by Hicks.  A few cautions and restarts show those in attendance that the "Kid� was a real player in this division.   With only a few laps left the Niagara Falls resident, Mark Loveland dirt tracked his #02 in to the second position.   Hicks easily held on to the third position for his best finish in 2018.
[caption id="attachment_2637" align="aligncenter" width="491"]
Dan Majchrzak and Ricky Knapp do battle for the lead on the final laps at the BullRing   [/caption]
     The Mighty SST Modifieds.   19 cars strong on this great night for racing and sponsored by the great people of Once Again Nut Butter.   For those employees , families and friend had seen an awesome night of racing and it was going to conclude with another great race.   
Nate Michielsen in his canary yellow #68 and the #5 of Zach Kosachook where the front row,followed  by the Sub driver in for her sister, Beth Dennie in the DFennie Motorsports #22 and young pilot Steve Sherwood.  
On the drop of the green, a may lay in turn one saw the elimination of a few good cars.   The Jacob Manzel, Tom Alloco and the Steve Fuchs ride all involved, Fuchs would return to action.   So we restack the lineup and tried again.   Way more successful start as the modifieds reeled off a good portion of their feature and then the caution flew.  His was the Michielsen machine spun-out on the grass off turn four.  
Danny Majchrzak had taken first and had almost half a track lead over last week's winner, the Rocket man Ricky Knapp Jr.   this was now a four lap shoot out.  Did Knapp have anything for the leader.   Could either of the Bradshaws, Toad or Bro make it to the podium, both running inside the top six.   The green flew off of turn four and it was racing in every row as they all wanted to better their finish position.  
Knapp tried to get the top position and it was not enough.   Toad Bradshaw in the fourth position slipped back as the younf Sherwood had a bad restart and both drivers lost some positions.   So Majchrzak would get his first feature of 2018 with Knapp second and slipping into third on that last restart was Super Sub Chris Finocchario in the Lewis Family racing #41.
4 cylinders    Heats Ricketson, Johnson
1)B.Johnson, 2)J.Pierce, 3)D.Heims(DQ), 4)K.Ricketson, 5)A.Bradshaw, 6)O.Bradshaw, 7)M.Bradshaw, 8)S.Sickles, 9)J.Sass, 10)M.Hurlburt.
Super 6Â Â Â Â Â Â  Heats Schenk, Knoepfler
1)B.Schenk, 2)T.Faro, 3)F.Parsons Jr, 4)A.Knoepfler, 5)J.Parthemer, 6)A.Cocilova, 7)T.Bennett, 8)K.Chenaille, 9)B.Hallett(DNS), 10)R.Cassidy(DNS)
Super Stocks     Heats   Chenaille, Horvatits
1)J.Horvatits, 2)M.Loveland, 3)C.Hicks, 4)E.Hastreiter, 5)Z.Meyer, 6)F.Kline, 7)T.Williams, 8)K.Skoney, 9)P.Flye, 10)S.Gleed, 11)M.Chenaille, 12)K.Lanni
SST Modifieds   Heats   Michielsen, B.Bradshaw, Knapp
1)D.Majchrzak, 2)R.Knapp, 3)C.Finocchario, 4)C.Logsdon, 5)S.Sherwood, 6)B.Bradshaw, 7)N.Michielsen, 8)B.Dennie, 9)Z.Kosachook, 10)C.Bolton, 11)D.Frutchey, 12)T.Bradshaw, 13)B.Kosachook, 14)J.Landcastle, 15)S.Fuchs, 16)B.Kosachook Sr, 17)T.Alloco, 18)J.Matzel, 19)J.Withey Jr
Back to News