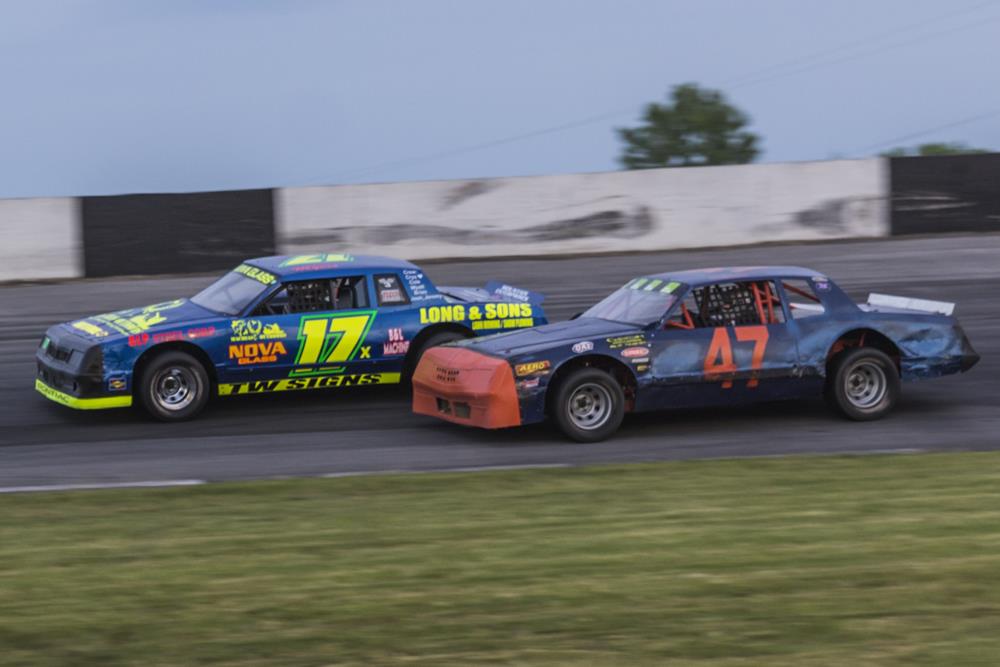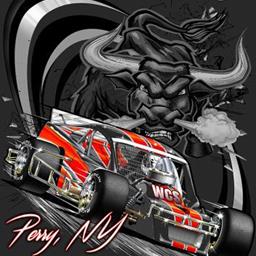 ---
Horvatits gets second in a row while Bradshaw and Pierce get their first features of 2018
Horvatits gets second in a row while Bradshaw and Pierce get their first features of 2018
Press release for Wyoming Cnty.Intl. Speedway for 6/16/2018 By Dan Turner Speedway announcer.
     We will start with the "Big Dogs"; the SST Modifieds.   Zach Kosachook and the sorta rookie (his first full year campaigning a modified) Tom Alloco would bring another great field of cars to green.   Alloco would use the outside lane to power into the #1 position.   Toad Bradshaw took full advantage of his fifth starting spot and leap-frogged past the Michielsen and Kluth rides before the first caution flew. This would put the Bradshaw #00 side by side with Alloco's #6 machine.  
Bradshaw would have to work at it but finally cleared the Alloco ride.  About the half way mark was a huge wreck on the back straightaway.   That saw the Alloco 6 hit and climb the wall after a lil contact from the charging #11 of the Rocket man Ricky Knapp.   Alloco would come to a rest in turn 3 upright but with considerable damage.   Also involved were the cars of Sherwood's #96, Dennie's #22, and the Knapp #11 ride who would return after a tire change.   It was one of those nights that the entire field of SST Modifieds were all very comparable in speed and handling.  
Majchrzak and Knapp really had their hands full working thru the competition.   With a handful of laps remaining, Bradshaw had the #1 and #2 in points breathing down his neck.   Brother Bro Bradshaw and Steve Fuchs in tow, both having a good night. Toad wanted a good restart and needed Bro and Fuchs to do some side by side battling to hold up the #14 of Majchrzak and the #11 of Knapp, and that's is what he got. 
With 3 laps remaining Majchrzak cleared the  #0 and #4 and started to try to run down the leading Bradshaw.   It was to no avail.   Bradshaw would pick up his first victory in 2018 and only second in his modified racing career.  Majchrzak was second and rebounding after an earlier wreck, Knapp took home the third place check.
[caption id="attachment_2663" align="alignleft" width="384"]
Erick H. and Zack M., Jockey for position[/caption]
     All rookie front row for the SST Super Stocks feature event.   Kory Lanni and Frank Kline had control of the field as the green flew.   Lanni used his pole position starting spot to jump out front early.  Kline was hung to the outside and the freight train was moving Kline in the wrong direction.   As the racers settled in it was again tough for 2 time winner Zack Meyers to get thru traffic.  
Meyers looking to capitalize on the missing Mark Loveland (point leader) not racing tonight.  Mike Scrappy Chenaille would lead for a bit, Erie Hastreiter would also get his chance to lead.   Hastreiter would open a full straightaway advantage over the rest of the field till his dreaded yellow would fly and move the Meyers 17 to his outside for a restart.   Meyers slipped past and that brought the Horvatits #4 machine with him.  
With only 3 laps remaining it appeared Mayers was en route to win #3 for 2018.   Joe Horvatits had other plans.   Horvatits worked his way to the side of Meyer and after a lil paint swapping, Horvatits put the Stealth black missile out front to collect his second feature in as many weeks.  Meyers second and Hastreiter rounded out the top 3.
     Sickles and Mike Bradshaw were the pole sitters for the 4 cylinders.   Bradshaws's lite compact CRX vs Sickles Pontiac Sunfire.   Bradshaw would use the weight advantage to scoot out front and try to hang on with all the big guns starting behind him.  
It wasn't long that perennial front-runner Jimmy Pierce Jr was in hot pursuit.   Pierce a 2016 regular took the lead and it was no looking back.   Dave Heims had nothing for the buffalo area racer.   Last weeks winner, Brian Johnson lost a head gasket on the Neon Green #85 Acura.   Johnson sprinted home dug out the weathered old Eclipse and drove it to a respectable 4th place finish to keep in the end of the year point chase.


     It was Aloha night at the speedway and the 7x vintage car of Terry Wilson took the honors in that class dispute losing the brakes on the old coupe.
Finishes
4 cylinders   Heat Winners -  M. Bradshaw, Pierce
Feature Finish - JIMMIE PIERCE, JR. #26,  David Heimes #8,  Kathie Ricketson #44,  Brian Johnson #85,  Mike Bradshaw#02,  Sean Sickles #14s,  Lee Hicks #24,  Justin Sass #2,  Otis Bradshaw #00 (DNS), Matthew Hurlburt #14m (DNS)
Super Stocks   Heat Winners - Chenaille, Myers
Feature Finish - JOE HORVATITS #4,  Zach Myers #17x,  Eric Hastreiter #47, Mike Chenaille #14s, Cole Hicks #46,  Troy Williams #14, Kyle Skoney #55, Frank Kline #33, Kory Lanni #29, Ron Richter #31x, Paul Flye #94
SST Modifieds   Heat Winners - Z. Kosachook, T. Bradshaw, B. Bradshaw
Feature Finish - TOAD BRADSHAW #00, Daniel Majchrzak #14, Ricky Knapp #11, Steve Fuchs #4,  Cassie Logsdon #09, Bro Bradshaw #0, Damon Frutchey #15, Jennifer Dennie #22, Jake Matzel #18, Zachary Kosachook #5,  Don Pringle #96x,  Bill Kosachook #9, Carrie Bolton #6j,  Tom Alloco #6,  Steven Sherwood #96, Billy Kosachook #19, Dick Kluth #27, Nathan Michielsen #68, Ryan Nugent $42

Vintage Racecars 
Feature Finish - TERRY WILSON #x7, Chic Voit #4, Marsha Sanford #49, Joe Bachman #17, Bill Barkley #51, Tommy Smith #58, Dale Hamilton #4
Next Weekend 6/23/2018 - Scout Night at the Races!
     Next week is Scout night at the track which means all boy and girl scouts get free admission to the races.   Scout troops are encouraged to come watch the races and then camp out at the speedway.   Call the track office for details.  
Get all your news and highlights for the track online at www.thebullringwcis.com. 
Gates open at 5:00 pm

Practice at 5:30 pm

Racing at 7:00 pm

Visit our website for our complete 2018 Schedule, the latest news, and more at www.thebullringwcis.com, and add us on our social media handles: 
Instagram- thebullringwcis 
Snapchat- thebullringwcis

For any general questions, please contact either Jim Majchrzak at (585) 245-2123 or Dakota Packman at (585) 447-3602. For tech questions, contact Head Tech Ron Roberts (585) 322-3381.
Back to News