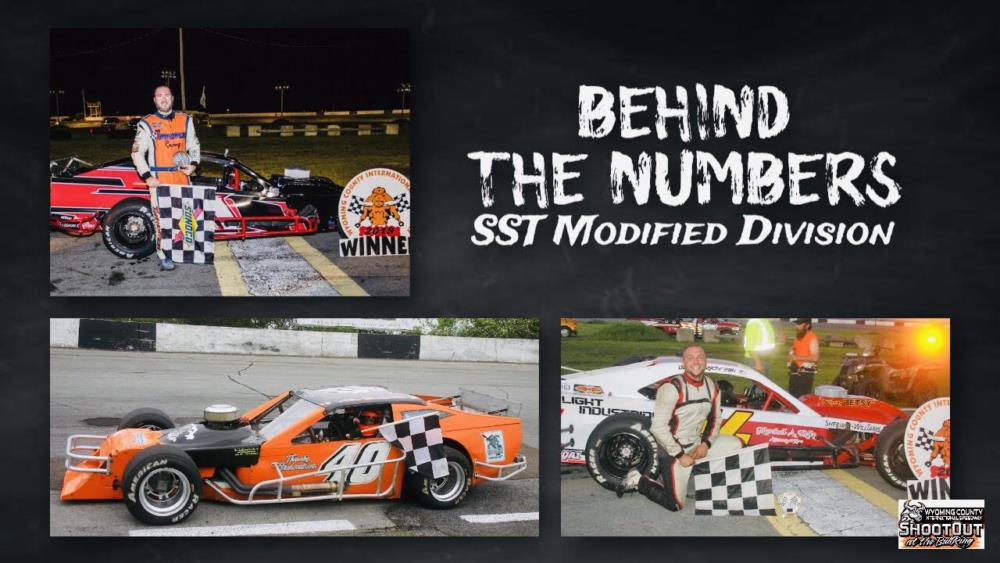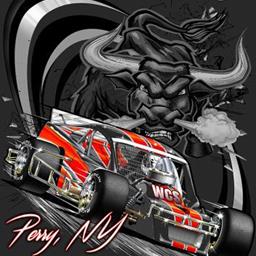 ---
Behind the Numbers: Â 2019 Season SST Modified Championship Night Showdown
Behind the Numbers: Â 2019 Season SST Modified Championship Night Showdown
By: Dakota Packman
Perry, NY (August 23rd, 2019);  As we head into the finale of the 2019 regular season, for many, one event stands in the way of determining whether or not a season's worth of hard work and determination will end in success, or come up just short of a championship.  This could not be more apparent in none other than our premier division of racing, the SST Modifieds.  The fate of three teams, separated by just 22 points (or less than the difference in 1st place and 5th place points this week), will ultimately be decided as the dust settles this Saturday evening.  There is so much that has gone into this tight battle, so let's get to meet the drivers who will lay it all on the line in hopes of securing the 2019 SST Modified Championship title.
Kevin Timmerman #11T | 1st Place | 557 Points | 0 Point Deficit
Season Stats- Starts: 9 | Wins: 2 | Top 5s: 8 | Top 10s: 9
Kevin Timmerman after his 2nd victory of the season on August 10th (Photo Credit: Rob Micoli, MM Sports Photos).
This is Kevin Timmerman's first season at 'The Bullring', but don't let that fool you as he is no stranger to success in the SST Modified ranks accumulating three NASCAR Modified championships at Spencer Speedway in Williamson, NY.  Since the 2007 season, he has competed for the Spencer Speedway championship and finished in the top three in points each of those seasons, accumulating 25 wins during that span, as well as the aforementioned three championship titles.  This recipe for success has translated well to his 2019 season campaign behind the wheel of the Knapp Motorsports #11T.
When asked what his expectations were coming into the 2019 season, Kevin responded, "to compete for wins and run for the championship,� all while adjusting to an almost entirely new set of competitors he had never raced against before.  As the season has progressed, the expectation of competing for wins and the championship never fluttered, taking a consistent approach week in and week out.  He went on to say, "I race the same all year long, because once you start changing the way you race, mistakes can happen or you put yourself in a bad situation that maybe you wouldn't have been in.�
To gain a little perspective on how Kevin has built his resume, we asked Kevin for a piece of advice he would give to some of the up and comers of the division.  "It has to be a passion of yours, and you have to spend a lot of time in the shop because that's where races are won,� Timmerman stated.  He continued with the example that even on nights that they win, they spend two nights in the shop, or about 10 hours going through everything to make sure things are right.  Giving us a little extra, he said, "Also, listen to the guys who have raced a long time,� offering his assistance to anyone that wants to learn, making mention of his personal tenure of 32 years of racing experience, including being in a Modified since 1998.
Alan Bookmiller #40 | 2nd Place | 545 Points | 12 Point Deficit
Season Stats- Starts: 9 | Wins: 0 | Top 5s: 8 | Top 10s: 9
Alan Bookmiller and his #40 takes home a heat win on June 29th (Photo Credit: Howard Boundy).
Unlike Kevin Timmerman, Alan Bookmiller has been no stranger to the famed Perry 1/3rd mile speedway.  Although he has yet to break through in winning an SST Modified championship, he has accumulated a number of accolades and wins, including the Super Stock championship in 2013, Super Stock 'Rookie of the Year' in 2012, and the 'Rookie of the Year' in the SST Modified division at Holland Speedway in 2015.  Recent history may also be on his side since during his 2018 season campaign, he was able to capture both the midseason championship and championship night feature wins, allowing him to finish in an impressive 6th place overall in points while missing four events that year.
We asked Alan about his approach throughout the season and whether or not it has changed, and similar to Kevin, he tries week in and week out to be consistent.  "The idea is trying to always keep moving towards the front, but also taking what the car will give you on any given week, not overdriving the car and trying to avoid putting myself in bad situations,� he said.  Alan capped off his response to this question with the saying "you have to finish first, to finish first,� emphasizing the importance of first finishing the race before you can be in the running to win the race.
Being seemingly unphased by the pressures that any average person may feel in this situation, he went on to say "You just have to treat this week like a normal race, make sure the car is ready, and try not to make mistakes.�  This stable approach is what he would recommend to those just starting out in the division, stating, "have a goal to finish the race first and work your way up from there, and the more seat time and racing you can get in, the quicker you will see your own improvement.�
Daniel Majchrzak #14 | 3rd Place | 535 Points | 22 Point Deficit
Season Stats- Starts: 9 | Wins: 3 | Top 5s: 6 | Top 10s: 6
Daniel Majchrzak after he brought his #14 SST Modified to victory on June 29th (Photo Credit: Rob Micoli, MM Sports Photos).
And this brings us to the 3rd place competitor, Daniel Majchrzak.  Another main stay at 'The Bullring', Majchrzak has five seasons under his belt in the SST Modified division, capturing the season championship in both the 2016 and 2017 seasons.  Following the 2017 season, Majchrzak purchased a "new to him� chassis that he has been working with for the weekly program at WCIS ever since, coming up just shy in 2018 to fellow competitor (and now car owner for the Kevin Timmerman #11T), Ricky Knapp, Jr.  As can be told by his 2019 stat line, Majchrzak made reference that "2019 has had the highest of highs, and the lowest of lows,� referring to his three victories, but also the multiple DNFs which have seemed to come at very inopportune times throughout the season.
Heading into his 2019 campaign, Majchrzak stated, "Expectations are always of the highest, but understanding that short track racing comes with highs and lows has allowed myself and the team to maintain a level head, especially through the lows.�  He continued by saying, "Entering the 2019 season, we knew we had a good car… We won opening night and that kept the team spirit high, and just as the level of ambition was soaring, we wrecked hard in week two.  My team having the determination to put it back together, shortly after we revisited victory lane.�  When asked about the evolution of his expectations as the season developed, Majchrzak said, "Our expectations have been altered a bit.  We're going out to race and do the best that we can as a team collaboratively.  Most importantly, we're out there to have fun.  A third championship would be great, however, finishing a race at 'The Bullring' can sometimes be challenging.�
As Majchrzak and the #14 crew prepare for this coming Saturday, after just suffering their worst wreck of the season back on August 10th, the emphasis is on the details of the rebuild and getting the car as close as they can back to form.  "Every 'T' must be crossed and every 'I' must be dotted heading into this week,� he continued, "We know we have the ability to pull it off, but sometimes you have to rely solely on the cards that you're dealt the night of the race,� referencing that having the fastest car doesn't guarantee you will win the race, and that it's "going to take a little bit of luck.�  Majchrzak's advice to the newer competitors in the class is understanding how important of a role the team is, not just his own, but those of his fellow competitors who numerous times in his career have jumped in to lend a hand when needed.
You will not want to miss the racing action this Saturday, as we bring to you Championship Night presented by Creative Food Ingredients of Perry, NY.  Five divisions of racing will be on hand with the SST Modifieds, Super Stocks, 6 Cylinders, and Grandpa Dog 4 Cylinders all doing battle for double points and championship rights, and the Vintage Racecar division making their 4th appearance to 'The Bullring' this season.  More information can be found on our website at www.thebullringwcis.com as well as our social media outlets listed below.
Wyoming County International Speedway
35 Adrian Road
Perry, NY 14530
Phone: (585) 237-2510 on race day
or (585) 237-2580 during the week
www.thebullringwcis.com
Facebook: www.facebook.com/theofficialwcis
Twitter: @theofficialwcis
Instagram: @thebullringwcis
Back to News