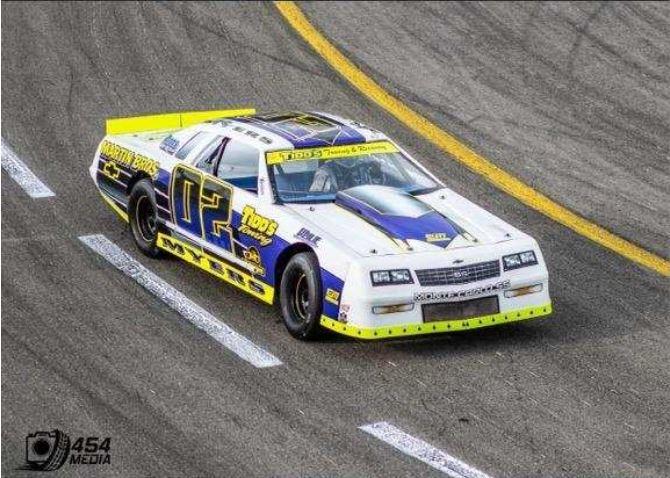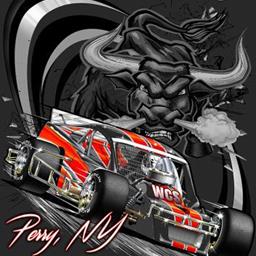 ---
Meet the Driver - Justin Myers, #02 Super Stock
Perry, NY (April 8, 2021): When Justin Myers retired his "Blue and Gold" football and track uniforms after high school, he quickly slipped into his racing suit: yup, "Blue and Gold." And, as you might have guessed, Justin's #02 Super Stock proudly carries the same "Blue and Gold" of his alma mater Franklinville High School as well.
Justin has been driving the #02 for several years starting with his "02COOL" go-cart at Bliss International Speedway in 2005. After winning several championships at Bliss, Justin took his seat in a dirt street stock for one season.
His driving abilities caught the eye of Butch Martin who quickly offered to help Justin forward his racing interests. The following year, Martin Brothers Chevrolet in Arcade, NY was clearly pasted on the rear quarter panels of Justin's asphalt race car.
Justin managed to establish his racing efforts under the roof of his uncle's old race shop. With the support of Uncle Todd ("46 Wild Thing") Hansen, Martin Brothers Chevy, and the addition of Tidd's Towing in Yorkshire, NY, Justin's future began shaping up nicely.
Justin's racing career on asphalt has kept him busy. He has entered competition at Lake Erie Speedway where he finished once in 14th place and again in 8th. Most of his finishes at Wyoming County had him in 2nd or 3rd spot with a single feature win in 2019, and an impressive season points position of 5th place. When he is not wheeling the 02 on the race track, Justin can be found managing his company, appropriately named "02 Tree Service." He also helps his daughter, who is a fierce dirt bike competitor, whenever they get the opportunity to compete.
The field of Super Stocks at Wyoming County is growing rapidly this year and is sure to be heavy in competition. Justin has his sight set on the 2021 Championship and says he is confident because of the team he has assembled to get him there. His chassis man is Scott Wylie, a veteran and expert according to Justin. He has enlisted the help of Jason Dieter to assist with set up at the track, and the entire team will lean on the guided leadership of Crew Chief Leon Szweda.
Justin added that he would be sitting idle without the equipment supplied by Pat Emerling, veteran Modified competitor and multi-time winner at Western NY's famed Bullring. The brilliant printed logos and apparel are the handy work of Jeremy Haudricort. When asked which driver he looks to as being the one to beat Justin tells us, "I'm hoping that will be me... if it isn't me then I would say... It's the one directly in front of my hood at the time."
Tommy Smith, Contributing Editor/PA Announcer
WYOMING COUNTY SPEEDWAY
Back to News